Flour milling plant MK - 500
---
The flout milling plant is worked out for the production of flour and food bran from grain-crops (wheat, rye, buckwheat, rica and others)and fabaceous cultures (soya).
The peculiarity of the complex working is that all working operations are carried on in a vortic al stream of two-phase medium (air-grain) in the centrifugal force field. That secure the steady temperature during the process of milling.
The milling principle - rotary-rolling, three-stage, (fragmentation, milling, full reduction) with a series classification of milling products.
During the processing of standart food wheat the plant permits to produce up to 10 ton of high-grade sorted flour and up to 2 ton of foor scalpings, using practically nonwaste technology.
The plan is easy to serve and can be operated by one technician provided systems for grain supply, packing and warehousing of the end product. 
The complex consists of units for premilling preparation (grain normalization), grain milling and sowing it on sorted flour, meal and scalpings. On every stage there are clasifiers which select products of processing and separate wastes and admixtures. Every unit consists of several modular blocks. All modular blocks and units are united by pneumatic transport systems with a closed cycle of air circulation, which allows to minimize water intakes and atmospheric emission of pulverized product of the grain processing. That in its turn allows to reduce flour loss and power inputs, and to be not so particular about the housing and location for the plant. The modular block of recirculation executes also the abstraction of unmilled grain and its return to the unmilled grain unit; that increase the output of the sorted flour.
The system of hydrothermal grain processing and the multistage system of milling increase the output of the sorted flour and allows to produce high-grade foor scalpings. In the suggested system of hydrothermal working the process of the grain encapsulation lasts for 10-15 minutes. It guarantee the continuous work of the plant in the absence of large buffer capacities. It in its turn reduce power inputs and allows to decrease the housing size in 2 times.
The plant is made of modular blocks, is not very heavy, does not demand a fundamental building, fits into a small room, is easy to be installed and disassembled without any high-powered hoisting machine.
Provided with a heat-unsulated mill (grain and end product storage rooms can be cold) and continuous work, the power-supply of the complex itself is enough for the temperature being acceptable and comortable for the stuff during a winter even in Syberia.
The above mentioned advantages of the plant allowed to reduce almost to zero heat and electrical power loss; taking into consideration the Russian climate and permanent rises of energy resources in price all the advantages reduce costs and raise the profitability of the production in combination with high-grade grain grinding and complete wastes utilization.
| | |
| --- | --- |
| Model | MK - 500 |
| Grain productivity | 500 kg per hour  |
| The general output of flour | up to 75 % |
| including : |   |
| - extra | up to40 % |
| - first-class | up to 30 % |
| - second-class | up to 5 % |
| - food scalpings | up to 20 % |
| Installed capacity | 4 kilowatt per hour  |
| Room temperature | - not lower than  + 1°C |
| | | | |
| --- | --- | --- | --- |
| № | Designation | Quatity | Purpose |
| 1 | Unit for premilliing preparation | 1 | Matching of the grain to the food standart  |
| 1-1 | - vortical separator  | 1 | Refinement of the grain from light admixtures  |
| 1-2 | - heating column | 1 |   |
| 1-3 | - heat-generator TPG-5 | 1 | Air heating |
| 1-4 | - recirculating fan RV-3 | 1 | Recirculation heat-medium through the grain. |
| 2 | Unit for grain breaking  | 1 | Refinement from grain admixtures and grain breaking. |
| 2-1 | - vortical sieve separator  | 1 |   |
| 2-2 | - breaking machine OM-1 | 1 |   |
| 2-3 | - assembley stand  | 1 |   |
| 3 | Block for the grain hulling | 1 | Grain hulling and the separation of products of the process of hulling  |
| 3-1 | - vortical classifier of products of the process of hulling VK-1 | 1 |   |
| 3-2 | - hulling machine OM-1 | 1 |   |
| 3-3 | - assembley stand  | 1 |   |
| 4 | Unit for the hydrothermal grain processing  | 1 | Grain dampening  |
| 4-1 | - vortical classifier VK-2 | 1 | Separation of products of the process of hulling  |
| 4-2 | - steam dispenser  | 1 |   |
| 4-3 | - column for dampening  | 1 |   |
| 4-4 | - steam-generator PG - 5 | 1 |   |
| 4-5 | - heat-generator TPG-5 | 1 |   |
| 4-6 | - recirculating fan VR - 3 | 1 |   |
| 4-7 | - assembley stand  | 1 |   |
| 5 | Unit for encapsulation | 1 | Cooling and softening of the grain till the given humidity W (15 %). Temperature  Т-18С |
| 5-1 | - vortical chamber | 1 |   |
| 5-2 | - column for grain softening |   |   |
| 5-3 | - ejector discharger | 1 |   |
| 5-4 | - assembley stand | 1 |   |
| 6 | Transportation system | 1 |   |
| 6-1 | - fan VVO-500 | 1 |   |
| 6-2 | - transportation pipe installation (suit) | 1 |   |
| 6-3 | - wastes cyclone | 2 |   |
| 6-4 | - assembley stand | 1 |   |
| 6-5 | - wastes bunker | 2 |   |
| 7 | Unit for the 1st milling | 1 |   |
| 7-1 | - vortical classifier VK-3 | 1 |   |
| 7-2 | - milling machine OM-1 | 1 |   |
| 7-3 | - assembley stand | 1 |   |
| 8 | Unit for the 2nd milling | 1 |   |
| 8-1 | - vortical classifier VK-4 | 1 |   |
| 8-2 | - milling machine RM-2 | 1 |   |
| 8- 3 | - assembley stand | 1 |   |
| 9 | Unit for the 3d milling | 1 |   |
| 9-1 | - вvortical classifiers VK-4, VK- 5 | 2 |   |
| 9-2 | - milling machine RM-3 | 1 |   |
| 9-3 | - assembley stand | 1 |   |
| 9-4 | - ejector discharger | 1 |   |
| 10 | Unit for the grain sowing | 1 |   |
| 10-1 | - vortical seive separator | 1 | Preliminary sowing |
| 10-2 | -cyclone-accumulator CS-5 |   |   |
| 10-3 | -vibroseive with a gear system | 1 |   |
| 10-4 | - cyclone-filter | 1 | Flour sowing by sorts. |
| 10-5 | - assembley stand | 1 | Air evacuation and filtration. |
| 11 | Transportation system | 1 |   |
| 11-1 | - fan VVD-500 | 1 |   |
| 11-2 | - suit of transportational pipe installations | 1 |   |
| 12 | Electrical equipment |   |   |
| 12-1 | - control desk | 1 |   |
| 12-2 | - wiring equpment (suit) | 1 |   |
Unit for the grain preproduction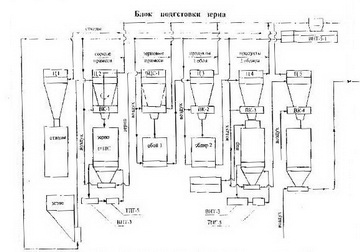 Unit for milling and  sowing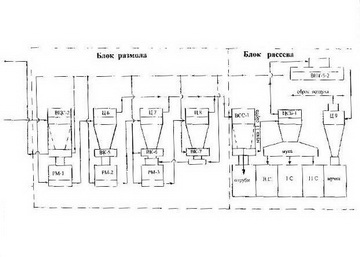 ---
| | | |
| --- | --- | --- |
|   | Copyright © 2000-2015  "Innovation Center of High Technologies" | |